Unlock iCloud Apple Watch
Work normal,  GPS, and GPS + Cellular.
Unlock iCloud is a service to Unlock your iCloud account Apple Watch ( Factory reset ).
Find My iPhone includes Activation Lock—a feature that's designed to prevent anyone else from using your Apple Watch if it's ever lost or stolen. Activation Lock is enabled automatically when you turn on Find My iPhone.
The question most requested by our customers:
Can you remove my Apple ID activation lock?
With our service Remove iCloud Activation Lock with IMEI & Serial number. Instantly remove iCloud account or Apple ID from any Apple Watch devices. After removal, you get full control over your device.
Buy the iCloud unlock Apple Watch  for only €29.99
Unlock iCloud Apple Watch Service
In case you bought a used Apple Watch (or even forget your iCloud password) with iCloud activation lock issue, this powerful iCloud activation lock removal service is the ideal solution for your Apple Watch. Our exclusive iCloud unlock service will allow you to permanently unlock iCloud account on your Apple Watch. And iCloud is Unlocked.
In other words, this iCloud removal service will remove iCloud activation lock screen completely and officially. Consequently, you will be able to use your own iCloud account seamlessly.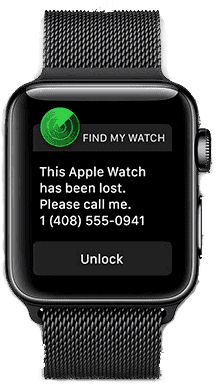 How iCloud Unlock Apple Watch Service Works
Our iCloud unlock service is an easy and strait forward process. Because we will remove your iCloud lock using your Apple Watch IMEI number only. For GPS model Serial only. Which means that service will remove iCloud activation lock from your Apple Watch remotely. So that there is no need to send us your Watch.
We do not use useless software to unlock. (They only bypass and do not unlock it, to use a new iCloud account).
Our service is a permanent official Unlock iCloud, via IMEI or Serial number: this means waiting up to 7 working days for unlocking!
As soon as the unlock is ready you will be contacted to your Email.
How to proceed
Step 1: Select your Apple watch.
Step 2: Enter your Apple watch IMEI or ( Serial number for GPS model )
Step 3: Add to cart
Step 4: Proceed to checkout
Step 5: Pay with your credit card or Bitcoin
Step 6: After maximum 7 days your idevice is unlocked. (We will contact you by email with the final instructions)
iCloud Unlock Apple Watch  works
Unlock iCloud Compatible Watch Apple:
Apple Watch
Apple Watch Series 1
Apple Watch Series 2
Apple Watch Series 3
Apple Watch Series 4
Apple Watch Series 5
How do I check my iCloud status?
Sales Service: iCloud Check – Activation Lock status.
Service allows you to Check Activation Lock Status